MotionPro! is the ideal swing analysis and motion analysis software for Bowling.

If you want to improve your skills as a player or as a coach then you need video feedback. MotionPro! makes it easy for you to perform powerful video analysis of any sport using equipment you probably already own!
Are you looking for video analysis software to help you coach or teach bowling. Then look no further! The applications for MotionPro! are limited only by your imagination.
MotionPro! can help you as an amateur by comparing your swing to other good players or professionals. Use the software that Professional coaches use, for a fraction of the price. Prices start at $29.99.
"I had a chance to run your program, it is so cool. I'm 59 and not much amazes me anymore,
but your program is so simple to use, easy to understand, and works like you said it would."
Gregg Pauley - Pierre, SD
NEW! CALCULATE BOWLING BALL SPEED AND RPM!
<![if !vml]>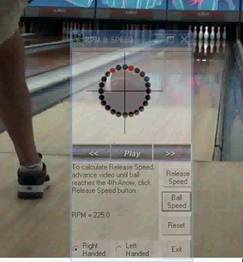 <![endif]>
Try it out for yourself, download the Trial!
NEW! CALCULATE BOWLING BALL SPEED AND RPM!
(Calculate Bowlers RPM With Ease and Bowling Ball Speed From Video)
"I am a bowler and I have found that your software has helped me greatly improve my game. I recently bowled my first sanctioned 300 game and last night I bowled 290."
Filip Mazur -- FL